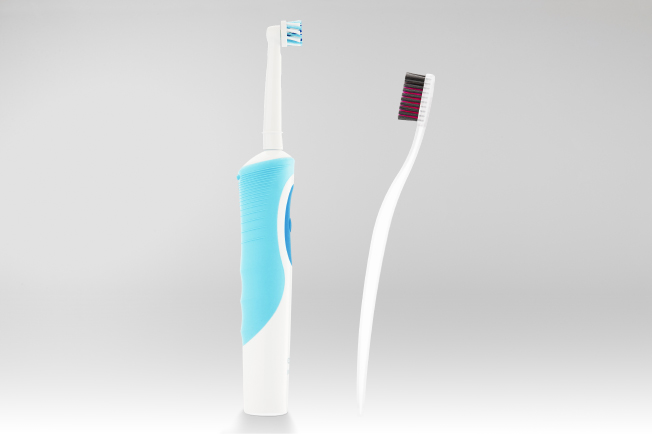 These days, it seems like there is a new piece of technology advertising health and lifestyle benefits almost every day. Many promise to make your life easier and healthier, but sometimes it's hard to know what is worth the money.
The electric toothbrush is one of the most common at-home dental technologies that our patients ask us about. Many electric toothbrushes promise to give teeth a professional-level cleaning, remove plaque, and even whiten teeth in the process. In order to help you and your family make an informed decision, we've listed some of the pros and cons of a regular toothbrush vs. an electric toothbrush.
Regular Toothbrush
Pros:
Cost – Most regular toothbrushes are inexpensive and can be found at just about every grocery or convenience store. But make sure you're buying brushes with soft bristles, as "medium" and "firm" can damage your enamel and gums.
Control – With a manual toothbrush, you control just how vigorously you brush and how long you brush. We advise our patients to brush gently because brushing too hard can damage gums and enamel, and to brush twice daily for two minutes each time.
Con:
Technique – With a manual toothbrush, you must have excellent technique for the proper duration to ensure that you're thoroughly cleaning each side of your tooth.
Electric Toothbrush
Pros:
Efficiency – Generally, an electric toothbrush can do a more thorough job of cleaning your teeth. You will not need to press as hard to get a complete clean. Even better, the rotating or vibrating head takes a lot of the work out of brushing.
Duration – Most electric toothbrushes come equipped with timers that let you know exactly how long to brush your teeth. This takes all of the guesswork out of brushing and ensures you've brushed long enough.
Con:
Cost – Electric toothbrushes cost more than regular ones, but you can also think of the expense as an investment in your oral health. Although an electric brush may be pricier, it might save you money in the long run by preventing cavities, gum disease, and other dental conditions that result from poor oral hygiene.
Consult with Dr. Chung
If you are unsure which type of brush to use, ask Dr. Chung during your next visit. Each patient has different dental needs. To ask our friendly team any additional questions about toothbrushes or to schedule your next appointment, call us today!
Contact Us