Dental Implants
Sometimes, our natural teeth fail us and we either lose them or need to have them extracted. But that doesn't mean you need to live with missing teeth forever. When you're missing teeth, you often find yourself missing out on the things you used to enjoy, like eating favorite foods, laughing or smiling with confidence, or talking with ease. Seattle dentist Dr. Chung can replace your missing teeth with dental implants to complete your smile and get you back to enjoying a full life again.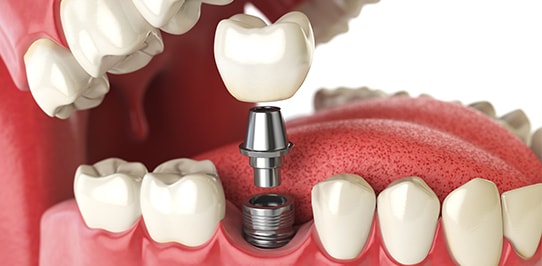 What Are Dental Implants?
If you are missing one or more teeth, we can use dental implants to replace the teeth and give you back a full, healthy smile. The dental implant itself is actually a small titanium post that we surgically place into your jawbone in the space left behind by a missing tooth. The titanium fuses with the bone to create what essentially functions as a new tooth root. Once the implant has healed, we place an abutment onto the post and top the whole thing with a restoration like a crown or bridge. This is the part of the structure that sits above the gum line and looks like your surrounding teeth. If you're missing many teeth, we can even use implants to support a denture and replace an entire arch of teeth! Implants are versatile and strong, so we can use them to get your smile back in shape.
Benefits of Dental Implants
Serve as permanent replacement option
Look, feel, and function like natural teeth
Help maintain facial shape
Prevent surrounding teeth from shifting
No need for ill-fitting dentures that slip
Continue normal dental hygiene routine
Dental Implant FAQs
Are dental implants permanent?
Essentially, yes! As long as you take good care of them, implants can last for decades. And unlike dentures, which you have to remove to clean, implants are surgically placed into your jaw, making them feel solid and secure.
How do I care for my dental implants?
Brush and floss your dental implants just like you would natural teeth! Taking care of dental implants is as easy as the regular two-minutes-twice-a-day routine that everyone should be following.
Am I a good candidate for dental implants?
Are you missing at least one tooth? You could be a great candidate! The best way for us to find out if implants are right for you is to bring you in for a consultation. The appointment allows us to evaluate the health of your mouth and jawbone. We'll go over all your tooth replacement options at your consultation, as well as your financial options.